MORE THAN A SPEAKER, THE MASTERPIECE OF YOUR INTERIOR.
The ub+ Eupho E2 is a bluetooth speaker. It stands out with its exceptional minimalist design that will sublimate your most beautiful pieces. Delivered with its solid wood tripod, it will broadcast a clear and vibrant sound in all situations. Its spherical design encapsulates the best of audio technology and offers unparalleled rendering.
30 HOURS OF AUTONOMY, THE MUSIC IS NOT READY TO STOP
Stream your favorite songs with your EUPHO E2 without worrying about having to recharge your device every 3 hours. Thanks to its high capacity battery, enjoy 30 hours of battery life, ideal for inviting your friends, or even for listening to the latest songs in your living room !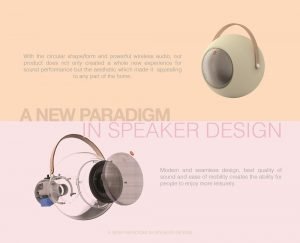 LIGHT AS A BUBBLE, CARRY IT EVERYWHERE WITH YOU, WITHOUT EFFORT.
Placed, hung, or on a tripod, you decide, what makes our bubble unique is its versatility. No need to try to compare it, you will never have so many possibilities with this level of sound quality.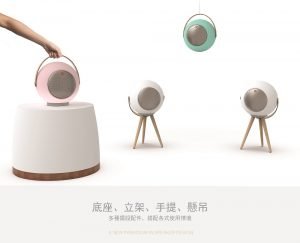 ACOUSTIC QUALITY
Bluetooth aptX wireless technology enables uncompromising sound. Even take it with you wherever you go, enjoy extraordinary sound that surrounds you thanks to its side speakers.
ELEGANT DESIGN
Very easy to install on a base or on feet (supplied), suspended via its leather strap, with its incredible design the Eupho E2 will be discreet in your interior with its design spherical shape.
PERFORMING
Speakers in a symmetrical position to balance the pressure created to harmonize the amplitude of the sound.
The flow of pressurized air in the spherical cavity channels low frequencies.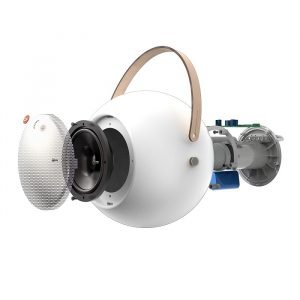 WIRELESS
The Eupho E2 has a built-in rechargeable battery via USB-C that lasts for up to 30 hours of continuous music listening.